Random Expiation..... Thing
Images are what I thought of when I saw your names or due to your role in raid. Hopefully people find this funny. (Based off of the 20m group we had today). If people find this interesting I may make more in future, if not this will be the only image I make.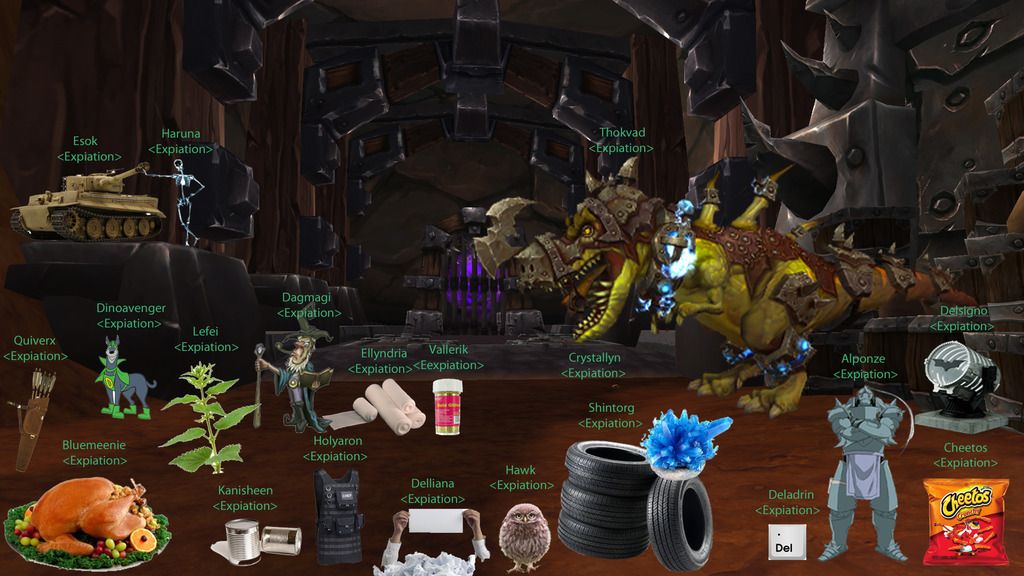 Shin - mentioned tire salesman, so here's some tires for you
Crystal - your name reminds me of crystals, so here's a bowl of crystals..... your name kinda floated away but I'm too lazy to fix it. It's supposed to be above your blue crystals.
Deladrin - your name reminded me of the delete key
Delliana - you are always trying to fix things and make me think of a person drowning in paperwork
Kanisheen - your name reminded me of shiny cans
Blue - you play a big turkey so here's a turkey for your turkey needs
Lefei - your name makes me think of plants, so here's some itchweed
Quiver - you name makes me think of an ammo holder
Haruna - plays a corpse, so he gets more bones
Holyaron - made me think of a holy apron, so here's an apron used in combat
Cheetos - cheesy snax
Dagmagi - made me think of a mage from a random RPG
Elly - I struggled to think of something for you - you heal so here's some bandages
Vallerik - you're holy so you throw glitter on people
Thokvad - no explanation needed
Delsigno - made me think of the bat signal to call Batman
Esok - I was going to put up a pair of electronically heated socks, but that seemed lame, so here's a tank
Aplonze - Something from FMA
Myself - I like birds, so I gave myself a burrowing owl
Dinoavenger - reminded me of Dinomutt from the old cartoon show, Blue Falcon